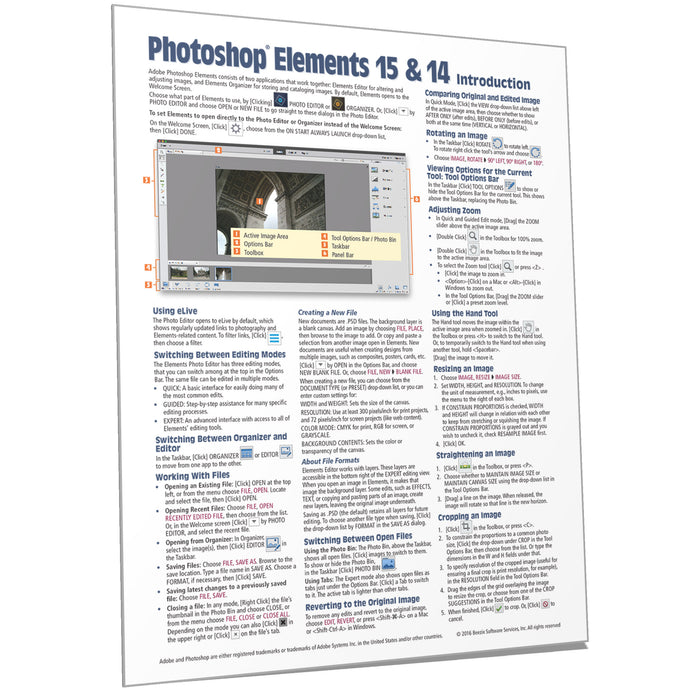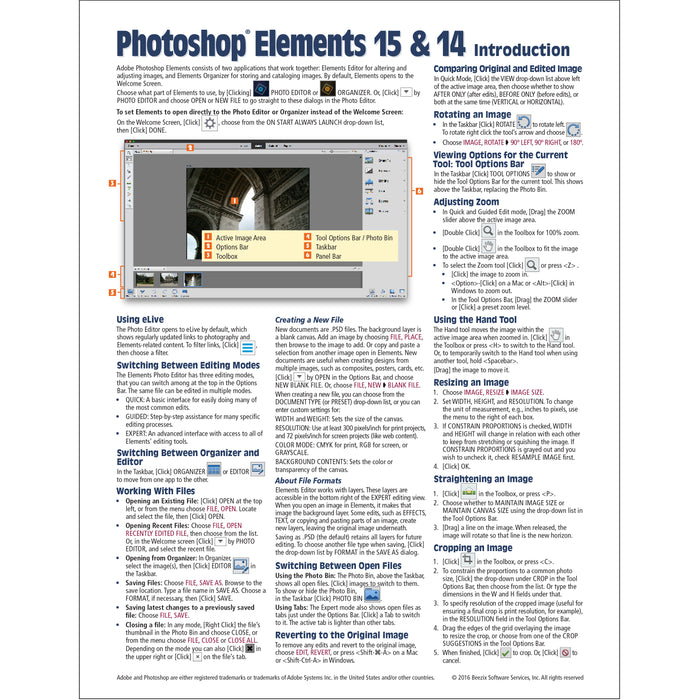 Adobe Photoshop Elements 15 (and 14) Introduction Quick Ref
Laminated quick reference guide showing step-by-step instructions and shortcuts for how to use Adobe Photoshop Elements. Covers BOTH Windows & Mac versions of Elements. Adobe Photoshop Elements is a powerful, easy to use application for editing and managing pictures. It contains many of the professional tools available in Adobe Photoshop, but is priced and designed to be accessible to everyday users. Our introductory guide will teach you to navigate the interface, make corrections to an image, add effects or text, organize your library, and much more. See topics below.

Note: This guide is good for both version 15 and 14 of Photoshop Elements.

The following topics are covered:

Editor and Organizer - What They are For, Launching, and Switching Between.
Using eLive
Switching Between Editing Modes
Working with Files
Switching Between Open Files
Reverting to the Original Image
Comparing Original and Edited Image
Rotating an Image
Viewing Options for the Current Tool: Tool Options Bar
Adjusting Zoom
Using the Hand Tool
Resizing an Image
Using the Guided Edit Mode
Adjusting Brush Size and Hardness
Making Selections: Quick Selection Tool, Selection Brush Tool
Cut, Copy, Paste - What's Special
Using the Adjustment Panel
Fixing Red Eye
Using the Healing Tools
Using Masking
Straightening the Image
Cropping an Image
Adding Effects, Textures, or Frames in Quick Mode
Adding Text
Organizer: Importing Images, Viewing Images, Using Albums.