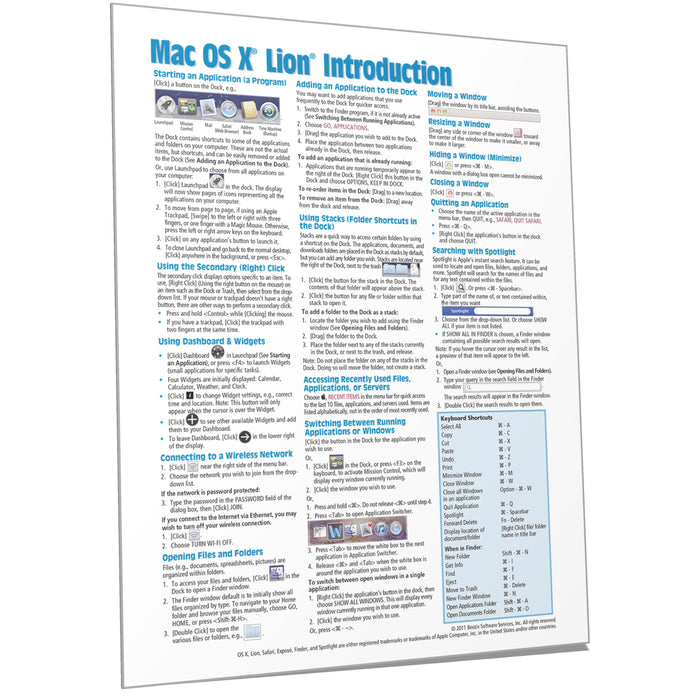 Mac OS X Lion Introduction Quick Reference
Laminated quick reference card showing step-by-step instructions and shortcuts for how to use Mac OS X Lion. The following topics are covered: 

Starting an Application (a Program); Using the Secondary/Right Click; Using Dashboard & Widgets; Connecting to a Wireless Network; Opening Files & Folders.
Adding an Application to the Dock; Using Stacks (Folder Shortcuts in the Dock); Accessing Recently Used Files, Applications, or Servers; Switching Between Running Applications or Windows; Moving a Window; Resizing a Window; Hiding a Window (Minimize); Closing a Window; Quitting an Application; Searching with Spotlight.
Using the System Preferences, Quitting an Application that Stops Responding; Converting a File to a PDF.
Using the File System: Changing Views, Previewing Files Using Quicklook, Sorting Files and Folders, Selecting Multiple Items, Moving or Copying Files or Folders, Creating a Folder, Compressing Files or Folders, Renaming Files or Folders, Deleting Files or Folders, Restoring Items from the Trash, Emptying the Trash, Burning to a CD/DVD. Getting Help.
Installing New Applications: Signing In to the App Store, Finding and Installing Applications in the App Store, Updating Applications Purchased in the App Store, Other Application Sources.
Changing Login Password, Creating Additional User Accounts, Ending your Computer Session.
Includes a List of Keyboard Shortcuts.