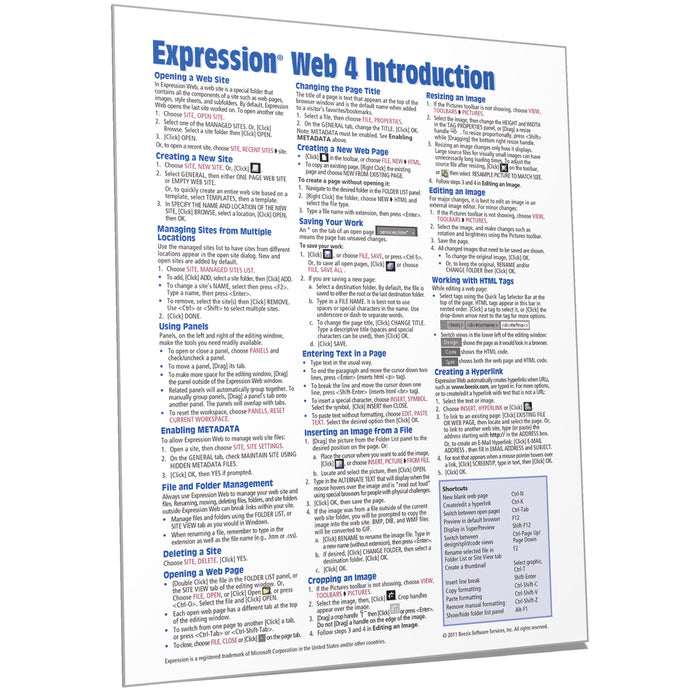 Expression Web 4 Introduction Quick Reference
Laminated quick reference guide showing step-by-step instructions and shortcuts for how to use Microsoft Expression Web 4. The following topics are covered:

Opening a Web Site
Creating a New Site
Managing Sites from Multiple Locations
Using Panels
Enabling METADATA
File and Folder Management
Deleting a Site
Opening a Web Page
Changing the Page Title
Creating a New Web Page
Saving your Work
Entering Text in a Page
Inserting an Image from a File
Cropping an Image
Editing an Image
Resizing an Image
Working with HTML Tags
Creating a Hyperlink
Cascading Style Sheets
- Formatting Text Using Styles
- Layout Using DIVs and CSS
- Creating a New Web Page Using a Predefined CSS Layout
- Creating Default Styles for HTML Tags
- Moving Styles to an External CSS
- Centering the Page in the Browser
Replacing Text Globally
Previewing in a Web Browser
Using SuperPreview
Setting up a Remote Site
Publishing Your Site.

Includes a list of keyboard shortcuts.