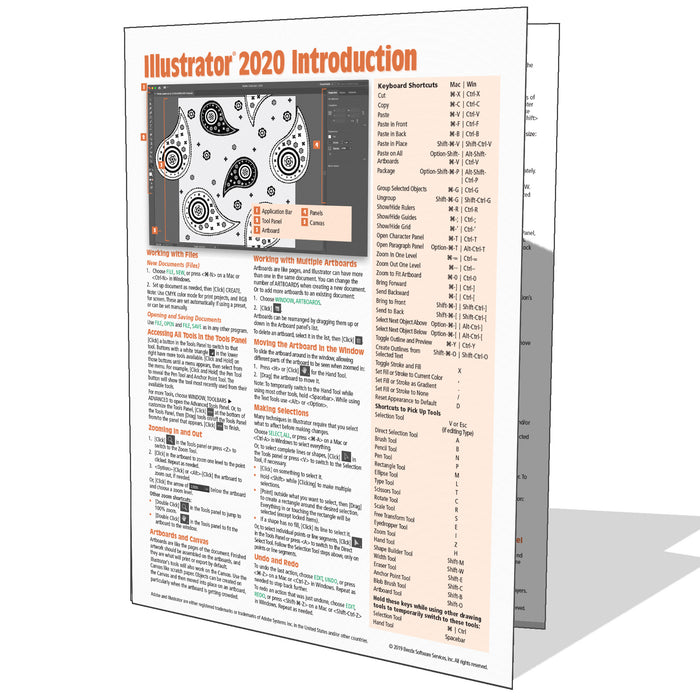 Adobe Illustrator 2020 Introduction Quick Reference
This 4-page laminated guide for Adobe Illustrator 2020 shows step-by-step instructions and shortcuts for drawing tools, powerful text creation, more advanced shape manipulation and editing, and much more. Covers BOTH Windows & Mac versions of Illustrator. See topics below.

Adobe Illustrator 2020 Guide Topics include:

Working with Documents; Accessing all Tools in the Tools Panel; Zooming In and Out; Artboards and Canvas; Working with Multiple Artboards; Moving the Artboard in the Window; Making Selections.

Applying Color as a Stroke or a Fill; Choosing Whether to Affect Stroke or Fill; Choosing Colors Using the Color Panel; Choosing Colors Using Swatches.

Changing Stroke Weight (Thickness); Varying Weights on a Single Stroke; Changing Opacity of a Line or Shape; Copying Color, Stroke, Opacity, etc. from One Line or Shape to Another; Applying Brushes to Lines; Drawing Freehand Lines with Brushes with the Paintbrush Tool; Drawing and Editing Freehand with the Pencil Tool; Using the Shape Tools; Using the Eraser Tool; Working with Handles; Changing an Existing Line or Shape using Handles; Deleting a Line, Shape, or Text Box; Drawing Precise Lines and Curves using the Pen Tool; Smoothing a Rough Shape or Line (Smooth, Simplify).

Creating Type; Typing in a Shape or On a Line; Converting Type to Shapes.

Moving Lines, Shapes, or Text Boxes; Cutting a Line; Resizing; Rotating; Reflecting (Flipping); Changing the Stacking Order; Reordering Using the Layers Panel; Duplicating Shapes, Lines, Etc.; Merging and Cutting with the Shape Builder Tool (Merging Overlapping Shapes; Removing Parts of Overlapping Shapes; Removing Parts of Lines); Creating Linear or Radial Gradients (Gradient Panel, Gradient Tool).

Using Outline View; Exporting to other File Types; Creating an Illustrator Package; Printing; Setting a Bleed for Borderless Printing.

Also includes a list of Windows and Mac keyboard shortcuts.