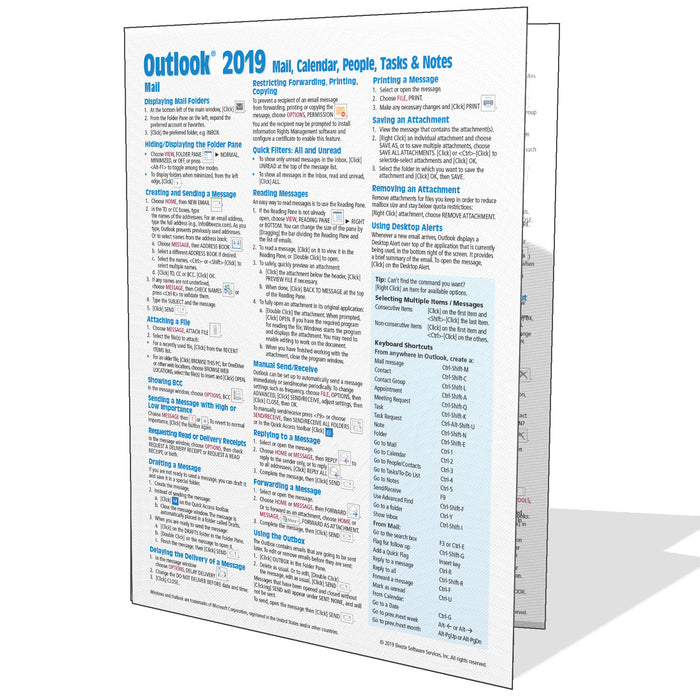 Outlook 2019 Mail, Calendar, People, Tasks, Notes Quick Reference
4-page laminated Microsoft Outlook 2019 quick reference guide (Windows version) showing step-by-step instructions and shortcuts for how to use mail, calendar, contacts, and tasks features. Outlook 2019 guide topics include:

Mail: Displaying Mail Folders; Hiding/Displaying the Folder Pane; Creating and Sending a Message; Attaching a File to a Message; Showing BCC; Sending a Message with High or Low Importance; Requesting a Read or Delivery Receipt; Drafting a Message; Delaying the Delivery of a Message; Restricting Forwarding, Printing or Copying. Quick Filters: All and Unread; Reading Messages; Manual Send/Receive; Using the Outbox; Using Desktop Alerts.

Deleting Messages; Saving an Attachment; Removing an Attachment; Replying, Forwarding, Printing a Message.

Sorting Messages; Changing the Width of the List; Grouping Messages by Conversation; Ignoring a Conversation; Cleaning up Redundant Messages; Marking a Message as Clutter; Turning Grouping On/Off; Finding Mail Messages; Using Task Flags; Creating a Folder; Favorite Folders; Moving or Copying Messages; Using Quick Steps; Creating a Contact from a Message; Creating a Contact Group; Creating an E-Mail Signature; Manually Inserting Signatures; Using the Rules Wizard.

Using the Out of Office Assistant; Handling Junk Mail.

Calendar: Displaying the Calendar; Setting up Your Work Week; Viewing the Calendar; Creating Appointments; Creating, Scheduling and Editing Meetings; Repeating Appointments or Meetings; Responding to Meeting Requests; Changing Time or Date of Meeting/Appointment; Viewing Multiple Calendars; Creating a Calendar Group; Printing the Calendar; Using the Weather Panel.

People: Displaying People; Creating & Editing Contacts; Linking Contacts; Deleting a Contact; E-Mailing a Contact; Searching for People; Merging with Contacts.

Tasks and To-Do Items: Displaying To-Do and Task List Folders; Creating Tasks; Putting Items in the To-Do List; Editing a Task; Marking Complete; Changing Task Order; Assigning Tasks; Viewing To-Do Items in the Calendar; Hiding /Displaying Tasks in the To-Do Bar; Printing Tasks.

Notes: Adding a Note.

For Any Outlook Item: Deleting Items; Assigning an Item to a Category; Sorting Items; Creating a New Calendar/Contact/Task Folder; Sharing Calendar Contacts Tasks or Notes; Creating a Contact Group; Using Another Person's Calendar Contacts Tasks or Notes Folder; Responding to a Sharing Request; Using the Reading Pane.

This Outlook 2019 Quick Reference also includes a list of Keyboard and Selection Shortcuts.