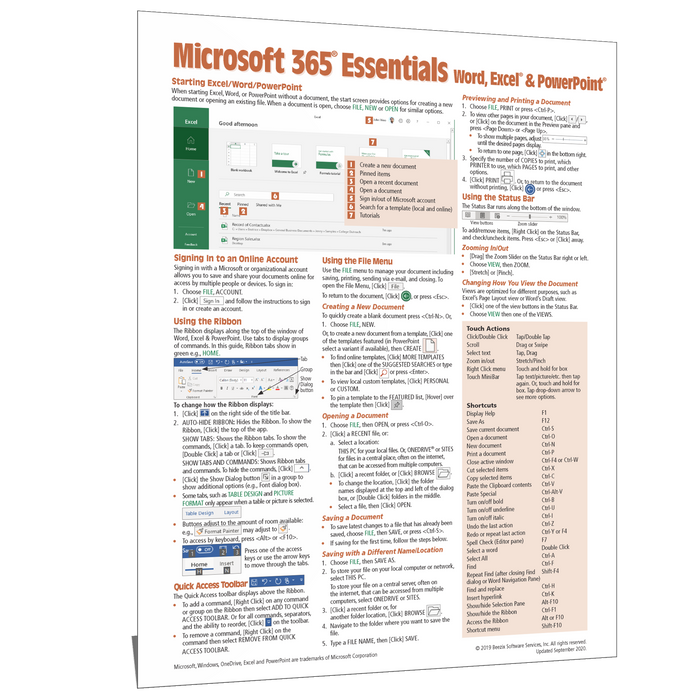 Microsoft 365 Essentials Quick Reference
Laminated Microsoft 365 quick reference card (Windows version) showing step-by-step instructions and shortcuts for how to use features that are common to Word, Excel & PowerPoint for Office 365. Great companion product to Word, Excel & PowerPoint Introduction guides. Updated September 2022. Guide topics include:
The Excel, Word, PowerPoint Start Screen
Using the Ribbon
Using the Quick Access Toolbar
Using the File Menu: Creating, Opening, Saving, Previewing & Printing Documents
Using the Status Bar to Zoom and Change Views
Using the Shortcut Menu
Undoing/Redoing/Repeating Actions
Optimizing for Touch
Inserting/Deleting Text
Selecting Text, Shapes, or Cells
Moving or Copying: Cut, Copy Paste; Drag & Drop
Changing Text Font and Size
Enhancing Text: Bold, Italic
Formatting with the Mini Toolbar
Changing AutoCorrect Behavior
Adding Pictures
Adding SmartArt
Working with Windows: Switching between Open Windows, Arranging Multiple Windows
Saving a PDF
Sending a Document as an E-mail Attachment, PDF or Link
Using @mentions
File Formats
Getting Help: Search and Smart Lookup
Compatibility with Previous Versions

Beezix's Quick Reference Guide also includes a list of keyboard shortcuts common to Word, Excel & PowerPoint.