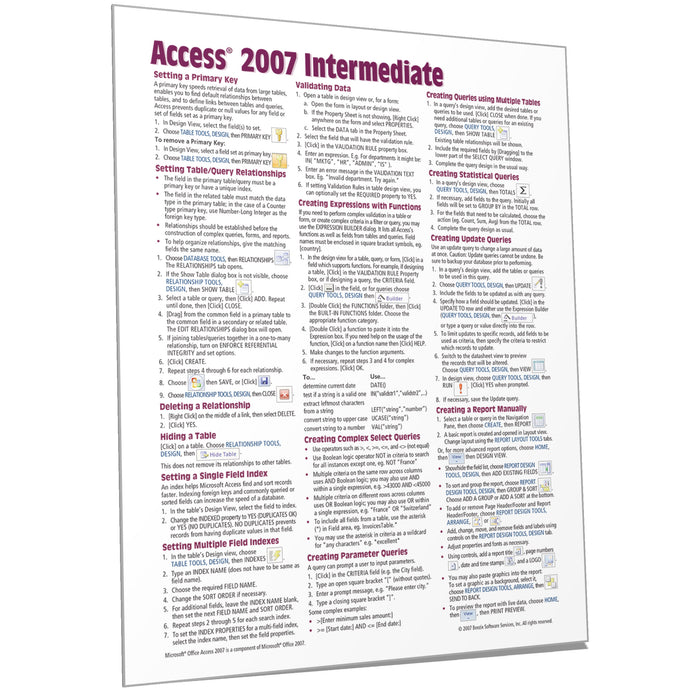 Access 2007 Intermediate Quick Reference
Laminated quick reference guide showing step-by-step instructions and shortcuts for how to use Microsoft Office Access 2007. See topics below.
Need version 2010
? This guide is also available in
French
.
See also our related guide:
Access 2007 Introduction
.
The following topics are covered:
Setting and Removing a Primary Key, Setting Table/Query Relationships, Deleting Relationships, Hiding a Table, Setting a Single Field Index, Setting Multiple Field Indexes, Validating Data, Creating Expressions with Functions
Creating Complex Select Queries, Creating Parameter Queries, Creating Queries Using Multiple Tables, Creating Statistical Queries, Creating Update Queries, Creating a Report Manually, Customizing Forms, Forms and Subforms, Creating a Subform in an Existing Form, Creating a New Form with a Subform, Using Subdatasheets: Inserting, Expanding & Collapsing, Removing
Merging Data with a Word Document, Importing Data into Access, Export Data from Access, Saving Import/Export Steps, Viewing Object Dependencies.