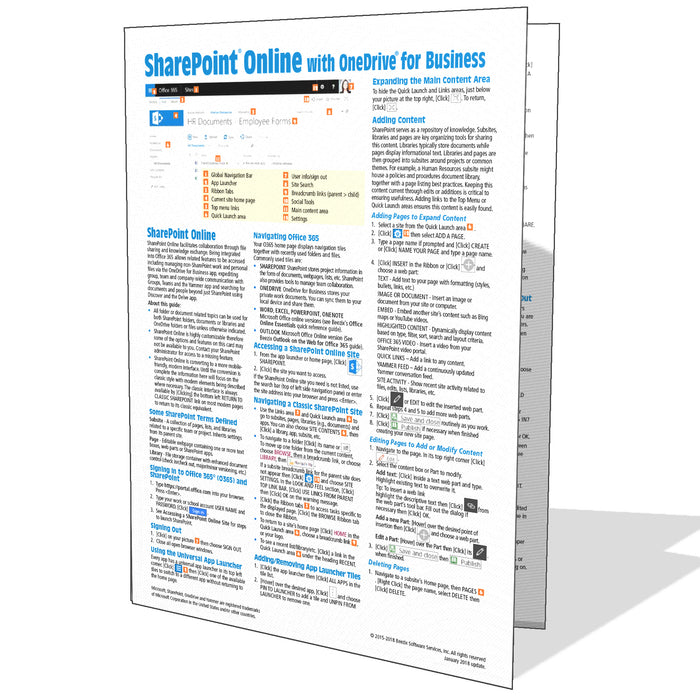 SharePoint Online with OneDrive for Business
Four page quick reference guide showing step-by-step instructions and shortcuts for effectively navigating and using Microsoft SharePoint Online with OneDrive for Business in an integrated fashion. This guide is updated on a regular basis to capture Microsoft's cycle of continuous change as it transforms SharePoint's interface to be more modern and mobile friendly. Accordingly we keep very little inventory of this guide so allow plenty of lead-time for your orders.
This guide was updated in February 2022.
SharePoint Online with OneDrive for Business Quick Reference topics include:
SharePoint Online
Some SharePoint Terms Defined; Signing In to Office 365 (O365) and SharePoint, Signing Out; Using the Universal App Launcher; Navigating Office 365; Accessing a SharePoint Online Site; Navigating a Classic SharePoint Site; Adding/Removing App Launcher Tiles; Expanding the Main Content Area; Adding Content: Adding Pages to Expand Content, Editing Pages to Add or Modify Content, Deleting Pages; Adding a Task App: Adding a Task, Editing/Updating a Task, Viewing a Task List; Marking Task Completion; Deleting a Task; Adding a Subsite: Adding a Community Site; Deleting a Subsite.
Managing and Sharing Documents
OneDrive for Business Documents vs. SharePoint Online Documents; Navigating SharePoint Document Libraries: Sorting and Filtering a Library List, Changing a Library View, Changing Library Settings, Viewing Library Activity, Adding/Deleting a Library; Opening SharePoint or OneDrive Documents; Creating a New Document or Folder; Renaming a Folder or Document; Saving a New Document; Deleting Documents: Recycle Bin; Moving and Copying Documents Online; Uploading an Offline Document to SharePoint or OneDrive; Moving and Copying Documents Using Windows Explorer; Restoring Previous Document Versions; Synchronizing Online/Offline Documents; Sharing Documents: Inviting People to Share a Document, Sharing a Document Link, Stop OneDrive Document Sharing; Checking SharePoint Documents Out and Back In; Collaborating with Others
Searching and Discovering
Searching for Documents; Searching for People; Discovering Knowledge with Delve & Discover; Using Delve in Office 365; Searching in Delve for People, Documents, Boards; Using Discover in OneDrive for Business; Following a Site; Using E-Mail Alerts.
Communicating
Engaging in SharePoint Newsfeed Conversations; Using @ Mentions; Using Office 365 Groups and Teams: Starting a Microsoft Teams Chat; Starting a Group Email Conversation; Broadcasting with Yammer: Starting a Yammer Broadcast, Managing Yammer Messages, Following Someone on Yammer; Managing Yammer with Your Inbox.