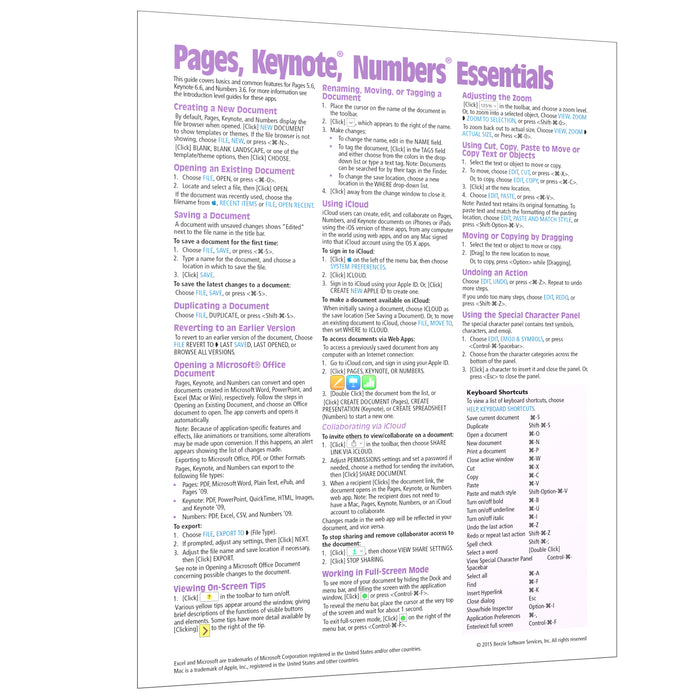 Pages, Keynote, Numbers Essentials Quick Reference (ver x.6)
The Pages, Keynote, & Numbers for Mac Essentials quick reference guide covers basic features that are common to Pages 5.6, Keynote 6.6, and Numbers 3.6, Apple's iWork suite of office software. Great companion product to our Pages for Mac, Keynote for Mac, and Numbers for Mac Introduction guides. See topics below:
Creating a New Document; Opening an Existing Document; Saving a Document; Duplicating a Document; Reverting to an Earlier Version; Opening a Microsoft Office Document; Exporting to Microsoft Office, PDF or Other Formats; Renaming, Moving, or Tagging a Document; Using iCloud, Collaborating via iCloud; Working in Full-Screen Mode; Adjusting the Zoom.
Formatting: Using Cut, Copy, Paste to Move or Copy Text or Objects; Moving or Copying by Dragging; Undoing an Action. Using the Special Character Panel; Using the Format Inspector; Changing the Size or Font of Text; Enhancing Text: Bold, Italic, etc.; Copying Formatting; Inserting a Table; Add/Remove Table Rows or Columns. Using Find and Replace; Inserting Images, Music, or Videos: Using the Media Browser, Inserting from Finder; Resizing Graphics; Inserting Shapes; Resizing a Shape; Adding Text to a Shape. Moving an Object; Selecting Multiple Objects.
Adding Comments; Using the Dictionary and Thesaurus; Using Dictation; Using Text to Speech; Customizing the Toolbar; Sending the Document as an Email Attachment; Printing the Document.
Also includes: Lists of Selection and Movement Shortcuts.